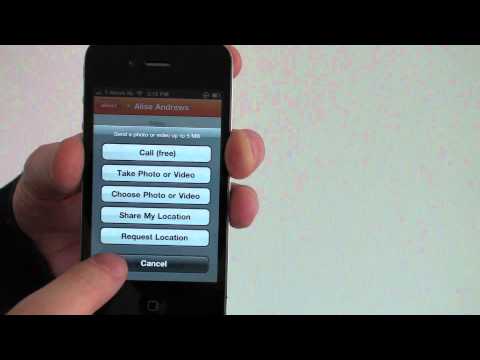 The new Nimbuzz is "Free calls and messaging" with awesome new features for your iPhone and iPod touch that improve the chatting and calling experience! The update is available now to download from iTunes.
Let's take a look at what's new.
Chat screen options with:
Chat Wallpaper – Use a photo from your album or take a picture to set as background.
Shared Files Preview – Displays a thumbnail inside the chat screen.
Real-Time Location Sharing – inside the chat screen to meet face-to-face by sending or requesting the location of you and your Nimbuzz friends.
Invisible Status – appear offline, but still chat and share files.
Recent Activity Tab – See call activity and play your voicemails, all in one tab.
Friend Suggestions – Connect with friends in your phone book already on Nimbuzz to call and message for free.
Featured Apps – Download new apps from the Recommended Apps section.
Nimbuzz Profile – Manage your Nimbuzz profile and change your contact information.
Let's get a bit more into detail:
We tried to simplify the entire chat experience by integrating all your files, location sharing and text messages in the same chat window of the friend you have exchanged them with. To test new format just try to send a picture to one of your contacts or request the location of one your Nimbuzz friends.
To customize your chat experience you can now choose a wallpaper for your chats. You can use one of the existent photos in your camera roll or albums, or simply take a new one on the fly.  To change your wallpaper simply go to Settings -> Wallpaper  -> Choose image.
The newly added Recents tab offers you an overview of your calling activity and Voice mail messages. You can check who called you, who you called, and also listen to your voice mails.
You will notice the Friend Suggestions right from the very first login. This feature automatically detects which of your phone contacts are already on Nimbuzz and allows you to instantly connect with them so you can call and message them for free. You also get to see when they are online, and use the location sharing feature for face-to-face meetups.
Last but not least, we have added a new section for Recommended Apps in the Settings tab. Here you can find new apps that might interest you. The applications are both free and paid.
We hope you will enjoy our new Nimbuzz version! Feedback is always welcome, so please let us know you thoughts in the comment section below.