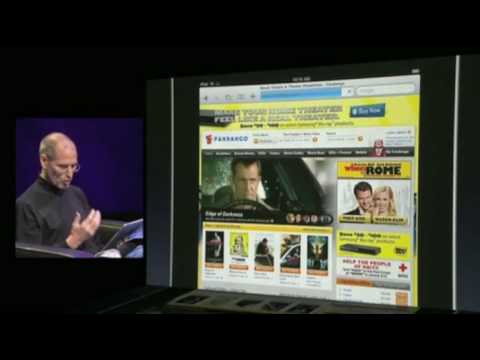 We have some feedback for Steve Jobs!
It's been a little more than a week since Apple released the iPad, and users are already sharing among each other their likes and dislikes about the device.
Because we understand the importance of feedback in order to improve a product, we decided to list a few issues as a favor of Steve J and his team.
Check out the list, and add your opinion after the jump!
Weak Wifi: It seems that the iPad is having trouble staying connected to Wifi networks, and sometimes not even connecting at all. Do you think this is to encourage people to buy the 3G AT&T plan?
Charging issues: The iPhone Freak explains that some users are having issues recharging their Apple tablet, such as not connecting properly to USB ports, and only charging when the device is off or on sleep mode.  This can be really annoying, in fact some of the best features of any device is to be able to use it at the same time that is charging right next to your computer right?
Crashing Apps: iPhone apps are frequently crashing when loaded onto the iPad. It is only natural that the new device is going to have compatibility issues with iPhone apps. At the same time, this will hopefully encourage developers to create more apps for iPad "only" versions. We can expect that this movement will become an entire new market for the mobile industry, which will create new jobs and business opportunities in the future. Don't you think?
Typing: Gizmodo opines, "It's pretty clear that typing is a secondary function for the iPad." People seemed to have trouble typing into the device when it is placed as a Portrait position. "It feels like typing on a big iPhone", says Seema Maloni, a new iPad user. For those who are having trouble,  it helps if you buy it a little stand and place the device on Landscape mode.
We should tell Steve that this something to think about for the next version
Syncing:  The iPad is taking several minutes and even hours to sync to iTunes. Not only that, but besides taking forever to sync, it also freezes iTunes! Im sure people are really unhappy about this. These days, technology is expected to be fast and to work, and even more when you pay over $500 dollars for it. What's the point of having an iPad if it will take 4 hours to sync to my iTunes? At what time am I going to be able to play with it?  
Do you have anything else you want to tell Steve about his new baby? Hey!!! Remember that the only way that you can make a product exactly what you want, it's by providing your honest feedback and comments. Ask questions and put your device to the test. You can start in our section below!
Note: Have you bumped into any issues with Nimbuzz working on the iPad? You can also let us know here!
(Don't forget to vote on our new poll placed on the side bar)