I know what it was like to be a student. Not easy for sure!
But thanks to the fast growth of mobile technology, which makes life easier for all of us, we can now even help students.
We put together a list of apps that can help you save money, remember notes, and even help you sleep better, so you can reduce some of that stress of your daily routine.
Go stress free after the jump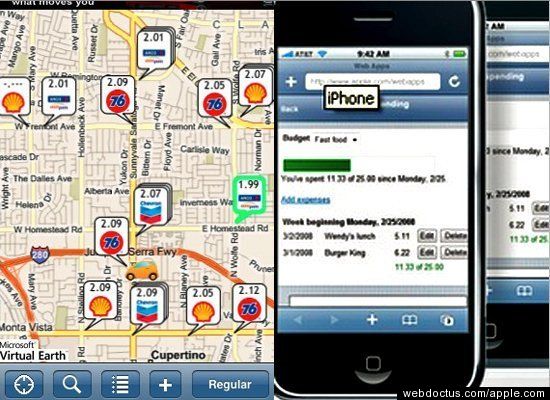 1) GasBag (left): If you want to take off for Spring break but you don't want to spend too much money here is a handy app, which it lets you find the cheapest gas and includes a gas purchase logbook and mileage tracker.
2) BudgetBuster (right): A free app that lets you track your daily, weekly, and monthly expenses from your iPhone. For the overworked and underpaid college student, BudgetBuster is a must.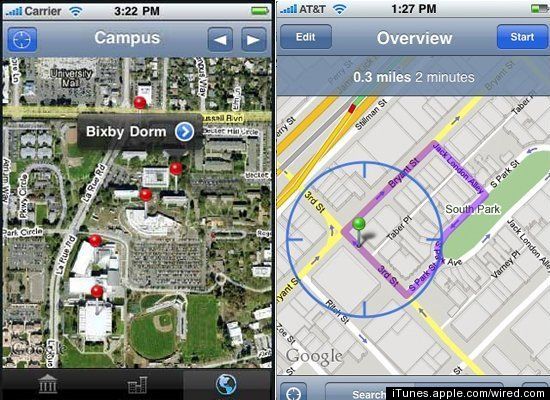 1) Logical Dimension (left): Freshmen?  Logical Dimension has mapped more than 200 colleges around the U.S. Get the app., find your way home.
2) PosiMotion's G-Park (right): Find your car! Thinking about all your midterms you can easily forget where you parked your car. Let PosiMotion  help you find your car after you are ready to go home.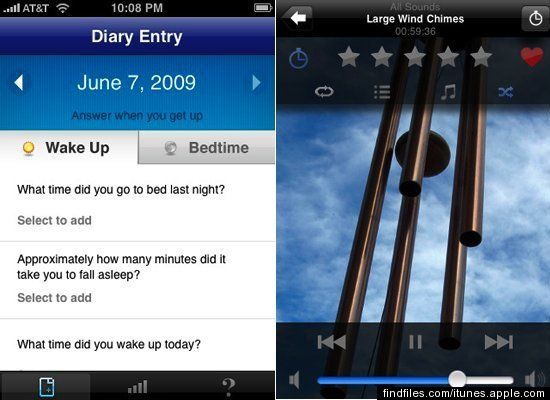 1) Sleep Diary (left): This app lets you keep track of how much (and how well) you sleep by answering questions when you first wake up and before you go to bed. The report shows how many hours you sleep as compared to factors that affect sleep such as diet, exercise, and use of medications. Eventually, identifying the problem helps you get back on a normal, healthy sleep schedule.
2) Ambiance (right): Marketed as an "environment enhancer," this app helps you create the perfect ambient atmosphere to focus or relax.
Android Users get ready! it's your turn!
CoursePro: Designed to take the place of your school-branded assignment book, CoursePro makes staying on top of your studies simple. The free version lets you add four courses with 5 assignments each, but if you pay $2.99 for the full version, you can put all of your assignments into the system as soon as your syllabus arrives. CoursePro lets you weight assignment types and enter grades so that you can also keep track of how you're doing.
Share Your Board: If you are the kind who loves to take notes share your board is right for you! After taking a snapshot of the board, Share Your Board will analyze the image, transform it, clean up and adjust the white balance for easy readability. After it's been adjusted you can add search-able comments and send it to your classmates. There's no easier way to capture whiteboard notes that with Share Your Board.
On the first run ShareYourBoard will activate your phone's camera and capture the whiteboard
Then ShareYourBoard will detect the edges of your whiteboard …
Perform perspective transformations…
Adjust the white balance…
And save a neat and clean whiteboard picture
And that is it!!! Now you can edit comments, mail the picture to your friends, or capture a new one.
Got a Blackberry? We've also got something for you.
StudentDocket
Features:
Numerous filters allow you to view assignments due today, this week, this month, or just about any other way you can imagine
Class management system allows you to keep track of class times and locations.
Store professor information such as office hours, location, phone number, and e-mail address. Launch calls or send an e-mail to teacher from within the program itself!
Keep track of what's due today or yesterday (oops!) using the convenient built in color coding!
Never lose track of that final essay again with StudentDocket's intuitive large project management system.
Don't you feel so much better already!!? These are tools that I'm sure our grandparents would've loved to have during their time.
Also, don't forget that Nimbuzz can save you time, money, minutes, and texts as well! For those students who like to stay connected with their classmates at all times, and want to experience the best multi-messenger experience for free, Nimbuzz is perfect for you.
Are there any apps that you are using at the moment that are making your college life easier? Share it with us! We would love to hear from you.
Image credit goes to here and here